Source Credit: Epoch Times
By: Jack Phillips
Photography: Cheney Orr
Date: 4/4/23
---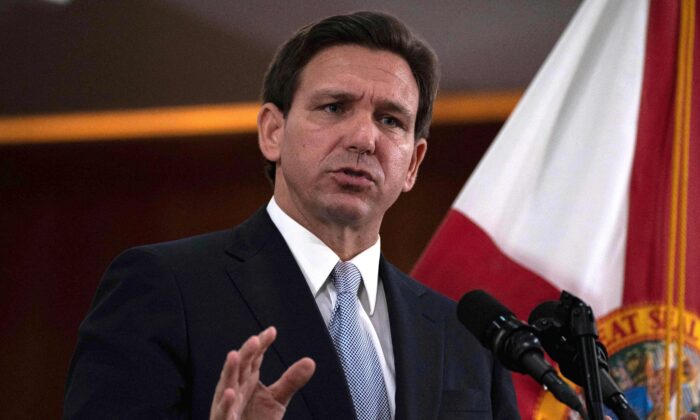 Florida Gov. Ron DeSantis signed a "permitless carry" bill into law on April 3, making Florida the 26th state to do so, according to pro-Second Amendment groups.
The legislation, passed by the Florida Legislature, allows people to carry a concealed weapon without a permit and without state-mandated training. It will go into effect starting July 1.
John Velleco, executive vice president of Gun Owners of America, confirmed to the Miami Herald that DeSantis, a Republican, signed the legislation in front of a group of about 20 people. An official with the National Rifle Association (NRA) also confirmed DeSantis signed the measure
---
After DeSantis's signature, Florida is now the 26th state in the United States to allow permitless carry, according to the U.S. Concealed Carry Association (USCCA). Before Monday, DeSantis said he would sign the bill into law.
There has been debate about the meanings of the terms "permitless carry" and "constitutional carry." The USCCA says the two terms are often used interchangeably. However, the group notes on its website that permitless carry can refer to laws in states that allow people to openly carry a firearm without a permit, but that require a permit for concealed carry.
Ahead of the bill signing, DeSantis said that Florida supports the Second Amendment during a book tour event on March 30.
---
"You don't need a permission slip from the government to be able to exercise your constitutional rights," he said.
The sponsor of the measure, Republican state Rep. Chuck Brannan, said residents should be able to carry their firearms without "government interference or local preemption."
"In the State of Florida, government bureaucracy will no longer stand between law-abiding Floridians and their freedom to exercise their Second Amendment rights," Brannan said in a statement. "This bill recognizes that while the government has a duty to protect its citizens, its citizens have a right to protect themselves."
The measure passed 76–32 in the House and 27–13 in the Senate, mostly along party lines. Democrats, who opposed the bill, said it would cause a spike in gun-related crimes and deaths.
Democrat state Sen. Shevrin Jones wrote after the bill's passage that "guns are killing our children and tearing apart families. It's not books, it's not drag queens, it's not even 'wokeness', it's guns!"
"Even with the loss of these precious lives, the FL legislature is STILL pressing forward with its permitless carry bill. It's a damn shame," he wrote.
---
Not Far Enough?
However, some pro-Second Amendment groups have said the bill doesn't go far enough and isn't a true "constitutional carry" measure because it does not allow people to openly carry guns like in a number of other Republican-leaning states.
DeSantis has previously said he supports open carry legislation, but some state leaders and sheriffs have indicated that they don't support the measure.
Orange County Sheriff John Mina, a Democrat, claimed in a guest editorial for the Orlando Sentinel that open carry would increase the number of shootings and gun-related deaths statewide. Republican Senate President Kathleen Passidomo also said in March that she would only support open carry legislation if the Florida Sheriffs Association supported it.
"I will support what the Sheriffs of this state, who are the experts," said Passidomo in early March, according to The Capitolist. "I don't know one end of a gun from another, so I certainly want to support the experts."
The bill that DeSantis signed "says you do not need the government's permission to carry your weapon," Passisomo further said. "That, in my mind, is constitutional carry."
Young Americans for Liberty said that next time, DeSantis and Florida Republicans need to do more.
"Governor Ron DeSantis can't expect to be praised as a conservative hero if he's going to retreat back to the establishment line every time a major vote has to be made. Floridians deserve the full constitutional carry that DeSantis promised last year, especially if he wants their support in the 2024 election," Ted Patterson, the group's vice president of policy, said in a statement Monday.
When asked about the bill and if it goes far enough, DeSantis said that if the legislature sends "me something that is 90 percent or 80 percent, I mean, I'm going to take that win and we come back for more at some time in the future," CNN reported.
Both the Gun Owners of America and the NRA praised DeSantis and the Florida legislature for passing and signing the bill.
"The NRA applauds Florida for becoming the 26th state to adopt the vital Constitutional Carry legislation. This NRA-spearheaded initiative empowers Floridians to exercise their Second Amendment rights without undue bureaucratic barriers, affirming the fundamental right to self-defense," NRA-ILA Interim Executive Director Randy Kozuch told Fox News on Monday.
And Gun Owners of America described the measure as a "huge win" for Second Amendment groups and "is a step in the right direction." It said that for years, Florida Republican lawmakers have "refused to even bring up" pro-gun measures.
"Again, this isn't everything that we have pushed for, but it is still a step in the right direction," it said. "Having the ability to have at least one method of carrying without the requirement of having a government issue permission slip is a good thing."
---
Checkout the original article HERE