***Important - Before purchasing, please read our sizing information and disclaimers listed below. If you are unsure what size you need or have any questions at all, DO NOT BUY before contacting our customer support first!***
ALWAYS ensure your firearm is unloaded and cleared while testing the fitment of your product prior to use. If there is doubt that you have the correct product or size, DO NOT USE THE PRODUCT and please contact Versacarry® support at 979-778-2000, or by email at support@versacarry.com.
For more information on product safety, please visit our Safety Warnings page.

How to Select the Correct Holster Size:
Using the "Sizing Guide" on any holster page, select your handguns make and model.
After selecting your handgun, look to the far right to find the size you need. This will be listed in parentheses. Example: "Beretta - 9000S - (Select Size 1 Below)".
In the dropdown menu directly below labeled "Select Your Size", simply select the size instructed. For this example, the correct size to select is: "Size 1".
After the correct make/model and size have been selected, you will just need to finish choosing the remaining options that are right for you (hand, color, etc.).
Once everything required has been chosen, simply add the product to your cart and keep shopping or checkout.
Example:
Need more help? The video below will show you how to complete these steps. If you still have questions, please contact us HERE
How Our Sizing Works:
Holster sizing is based off of trigger guard and frame size, rather than specific features of one given make/model. In the diagram below, look closely to the left side of each holster. The yellow dotted line indicates where the sew line is located for each holster size. You will notice that this line changes slightly in size and pattern, as well as the physical width of the holster may also change. Since most handguns share a lot of the same design similarities, we are able to fit 100's of different handguns into 3 main holster sizes using this method. It is important to know however, even if you have multiple guns that technically require the same size, we still recommend getting a holster for each gun individually. Using the same holster for multiple puts you at risk of poor fitment. Each holster is sewn tightly so that after you break it in, it will fit the gun used correctly and still retain retention. Using it for multiple make/models may cause the holster to stretch further than it did for the original gun if larger. This will cause a loose fit for the smaller model, which is not recommended.
If this happens, you should stop using the holster immediately and contact our customer support.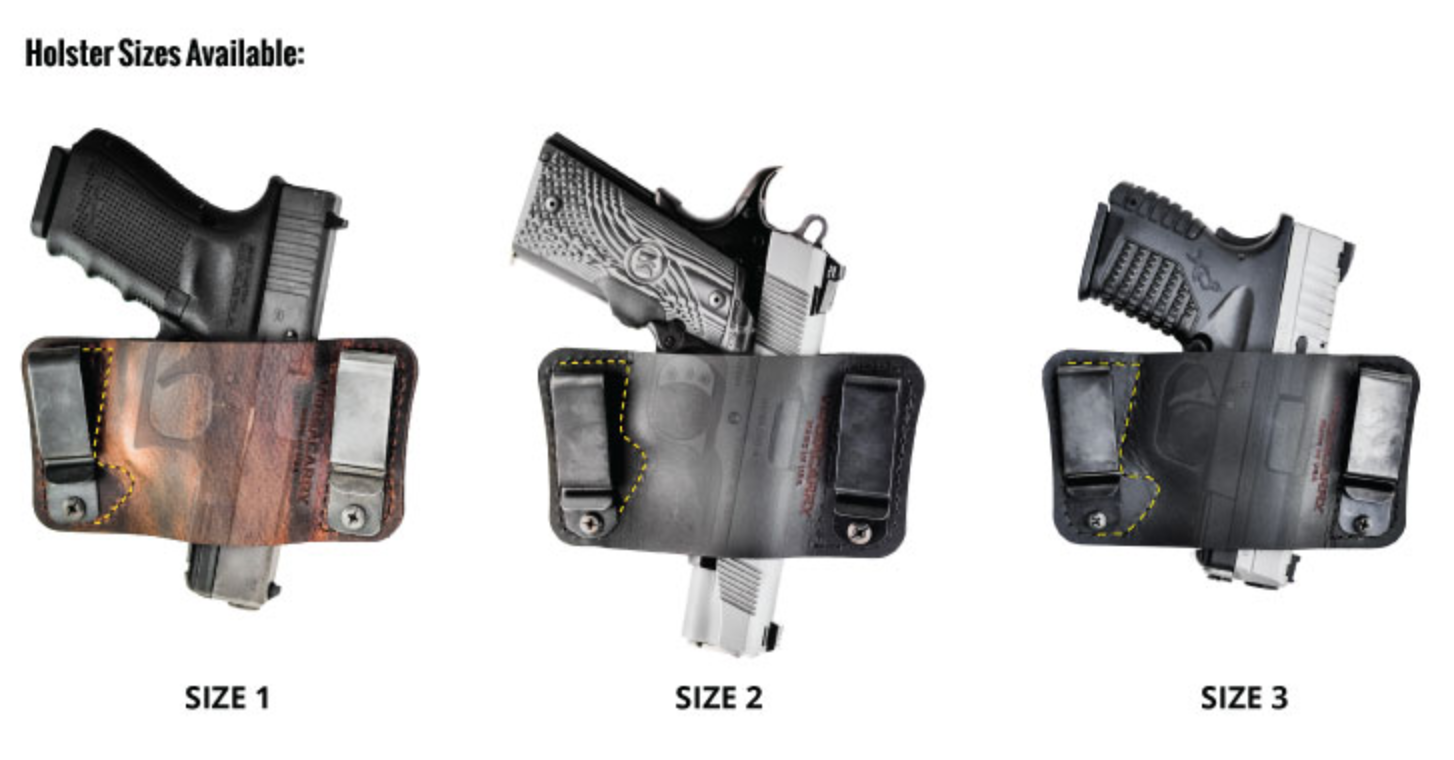 WHAT DOES EACH SIZE FIT?
Below is an overview of what each size typically will fit. Please do be aware that all manufactures classify handgun sizes differently. Because so, if your make/model is not specifically listed in our dropdowns we highly recommend contacting us before you purchase.
SIZE 1:
Fits most Compact and Full Sized handguns.
Example: most Glocks, Springfield XD/XDM, S&W M&P and similar.
SIZE 2:
Fits most 1911 Style handguns.
SIZE 3:
Fits most Sub-Compact Sized handguns.
Example: Glock 42/43, Ruger LC9, Springfield XDS, S&W Shield and similar.
SIZE P365:
Fits the Sig Sauer P365.
***IMPORTANT - READ THESE DISCLAIMERS BEFORE PURCHASING***
If your gun has a laser, light or any other attachment, the size that is listed WILL NOT fit your gun with the attachment. The only time this works is if it specifically calls out your make/model with the attachment you have in the sizing guide. Example: "CT Laserguard" specifically refers to Crimson Trace Laserguards. Please be aware, that even though some laserguard models may work, all may not. This greatly depends on the size, shape and other design features. We suggest if you are ordering with ANY laserguard attachment to contact us prior to ordering to avoid fitment issues.
None of our holsters are designed to work with suppressor sights. Using any of our holsters with these will cause our holsters to function improperly.
For questions or more information about these disclaimers, please contact us HERE