***Important - Before purchasing, please read our sizing information and disclaimers listed below. If you are unsure of what size to buy or have any questions at all, DO NOT BUY before getting assistance from our customer service prior.***
If your gun has a lasers, lights or any other attachment, the size that is listed WILL NOT fit your gun with the attachment. The only time this works is if it specifically calls out your make/model with the attachment you have in the sizing guide. "CT Laserguard" specifically refers to Crimson Trace laserguards and may only work with specific laserguard designs. For further clarification please contact customer support

HERE

.

None of our holsters are designed to work with suppressor sights. For further clarification please contact customer support

HERE

.
How Our Sizing Works:

Unlike most holster manufacturers, Versacarry® strives for quality and affordability. With that said we have focused all of our holster sizes to be compatible with multiple handguns, rather than just one. We hope to provide you the most flexibility and convenience of purchasing one holster for many handguns.

We hope you find our detailed holster sizing guide to helpful and informative. If you have any questions about how sizing works please do not hesitate to contact us.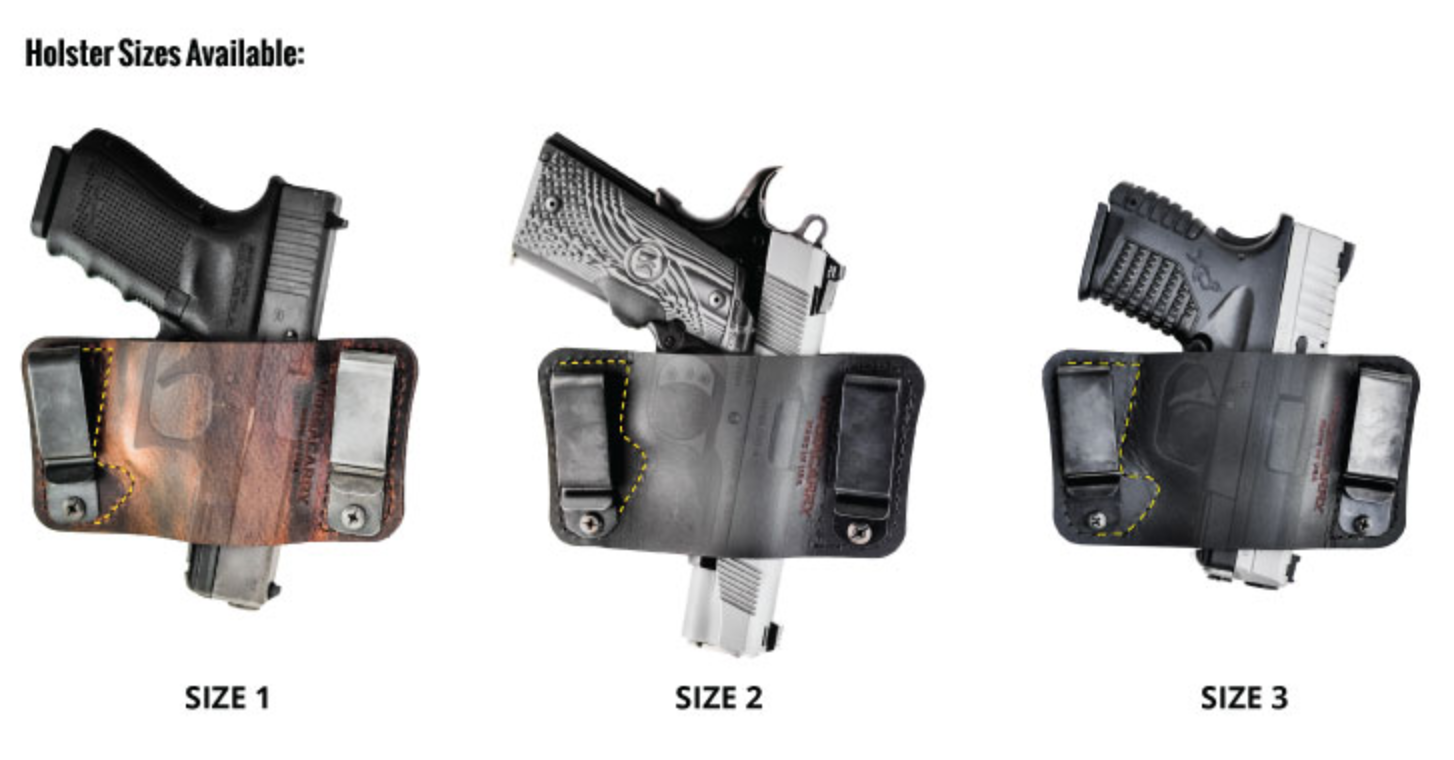 So What's the Difference?
We have designed our holsters to size off of the trigger guard and frame size rather than specific features of one given model. If you will look closely to the left side of each holster you will notice that the sew line changes slightly in size, pattern, or both.
Size 1 - Fits most compact and Full Sized handguns. (Most Glocks, Springfield XD, XDM, S&W M&P and similar)
Size 2 - Fits most 1911 Style handguns
Size 3 - Fits most Sub-Compact Sized handguns. (Glock 42/43. Ruger LC9, Springfield XDS, S&W Shield and similar